TeraSmart
Compact Industry-Proven Terahertz Spectrometer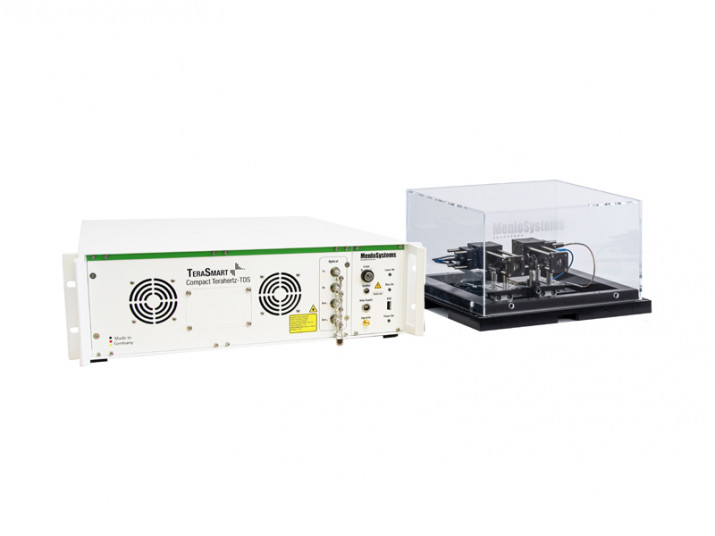 Specifications
Advanced Features and Benefits
All-Integrated Turnkey System
Compact 19" Rack Solution
Industry-Proven Delay Unit
Industry-Proven fs Fiber Laser
figure 9® Mode Locking
Multi-Channel Option
All-Fiber Flexibility
Ethernet Based Remote Control Engine
Class 1 Laser Product
TeraSmart
THz specifications
Spectral range
>6 THz* Bandwidth
Dynamic range
> 100 dB (Up to 110 dB*)
Average Power
Up to 300 μW*
Total scan range
>850 ps, flexible scan range and speed, customizable THz path length >3 m
THz frequency resolution
<1.2 GHz
Antenna model
TERA15-HP/TERA15-FC
Laser specifications
Auxiliary optical output port
Up to 2 fiber-coupled ports, 1560 nm, FC/APC, PM fiber (780 nm port on request)
Laser system repetition rate
100 MHz
Dimensions / weight
Enclosure
19" x 3U (448 x 132 x 495 mm³) / 18 kg
Optics, Monitor and Accesories
12 kg
*Note: values with asterisk are the specs for systems with high power emitter
Description
Introducing our new generation TeraSmart Systems with unparalleled performance
The TeraSmart, an established broadband terahertz spectrometer recognized for its compact design and reliability, has undergone remarkable advancements, setting a new standard for industrial performance.
The integration of our new groundbreaking TERA15 antenna modules with high-power capabilities has advanced the system's already impressive performance to a new level, establishing it as a market leader in terms of THz power, dynamic range, bandwidth, flexibility, and customization. In addition to its user-friendly turnkey functionality, TeraSmart utilizes Menlo Systems' cutting-edge fiber-based femtosecond laser sources with our proprietary figure 9® mode locking technology. The modular design, incorporating the ELMO OEM laser platform, enhances adaptability, enabling tailored configurations for seamless integration into both industrial and academic environments. Multichannel setups are possible, allowing for simultaneous measurements using multiple emitter/ detector pairs, all powered by a single femtosecond fiber laser oscillator. The incorporation of an intelligent TCP socket interface enables remote control, advantageous for non-destructive testing of hazardous samples, and smooth integration into manufacturing lines.
TeraSmart is a compact, turnkey, and integratable terahertz spectrometer designed for continuous 24/7 operation. Additionally, the high levels of attainable THz power expand the potential applications of THz spectroscopy and imaging, making previously unexplored and challenging applications (e.g., analysis of highly absorbing, thick, and biological samples with high water content) in the terahertz region more accessible than ever before. Furthermore, users of existing THz systems can seamlessly upgrade to the new high-power antennas.
Time domain data: TERA15-TX-FC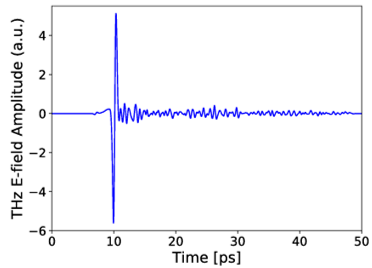 Frequency domain data: TERA15-TX-FC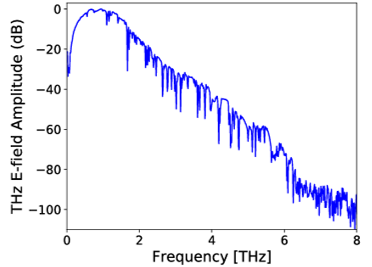 New! Comparison of our emitters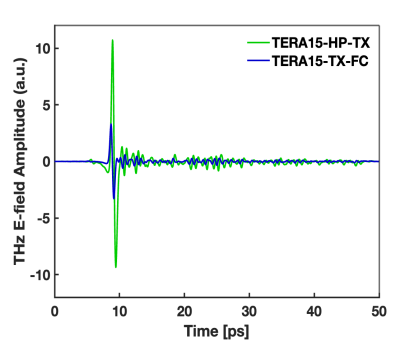 TERA15-TX-FC measurement settings: 100 V bias with 25 mW optical powers at 24 Hz scan speed to achieve >6 THz and >95 dB in 60 sec
TERA15-HP-TX measurement settings: 200 V bias with 50 mW optical powers at 24 Hz scan speed to achieve >6 THz * and up to 110 dB in 60 sec
All measurements were conducted under ambient conditions without purging Frequency domain data: TERA15-TX-FC
Applications
Application Notes