TERA ASOPS
High-Speed THz Time-Domain Spectrometer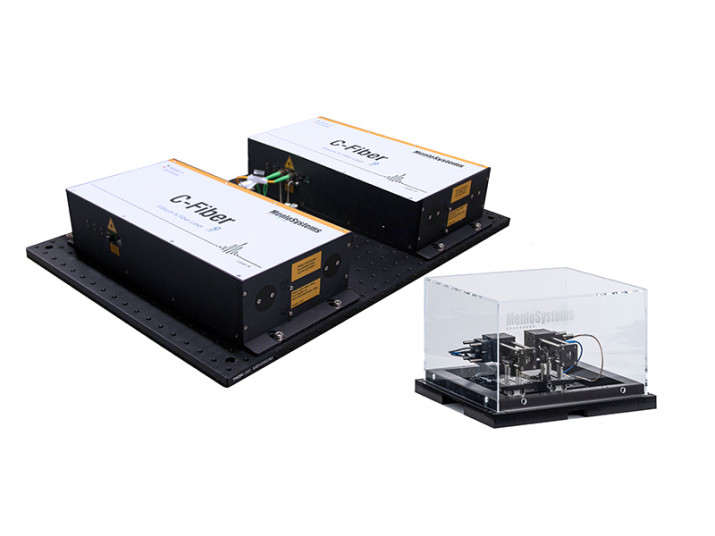 Specifications
Advanced Features and Benefits
NEW: Spectral Range >4.5 THz
NEW: Dynamic Range >70 dB
No Mechanical Delay Line
Large Scanning Range
High Spectral Resolution
Turnkey System, User-Friendly Controller Software
Remote Control via Network
TERA ASOPS

THz specifications
Spectral Range
>4.5 THz
Dynamic Range
>70 dB
Total Scan Range
up to 10 ns (pulse-to-pulse distance)
Rapid Sampling Rate
>600 Hz
Laser specifications
Laser Output Ports for THz
Two fiber coupled ports, 1560 nm, FC/APC, PM fiber, <90 fs after 2.5 m patch cord
System Repetition Rate
100 MHz
Dimensions / weight
Optomechanical Setup
900 x 600 x 200 mm3, 34 kg
THz Control Electronics
mounted in a 19" rack cabinet,800 x 600 x 1800 mm3, 75 kg
Description
With the ASOPS technique ultrafast data sampling is no longer limited by the natural restrictions of a mechanically moving optical delay unit. The novel TERA ASOPS highspeed THz time-domain spectrometer system is using this technique to temporally scan THz pulse traces at a revolutionary high rate. At the same time it is extending the detection window to nanoseconds pushing the spectral resolution into the region of hundreds of MHz.
TERA ASOPS is using two ultrafast lasers operating at a locked repetition rate with a tunable difference, providing the optical pulses for THz emission and detection. The lasers are featuring Menlo Systems' patented figure 9® mode locking technology for highest stability and reliability. The laser pulses are delivered via optical fiber to the THz antenna modules which are of the latest standard for high-power THz wave emission. High-transmission low-loss polymer optics ensure easy alignment and long-term stability of the THz path.
For seamless integration into existing experiments, the software features remote control of the spectrometer and high-speed data transfer over network. On request, additional laser output ports at 1560 nm and 780 nm can be configured.
THz pulse measured in low humidity atmosphere*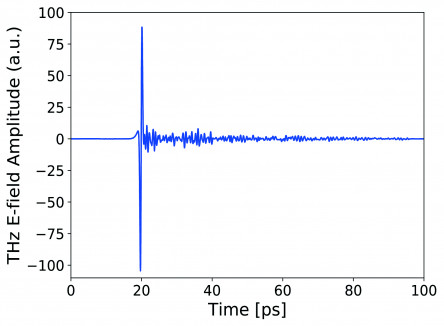 Calculated THz spectrum: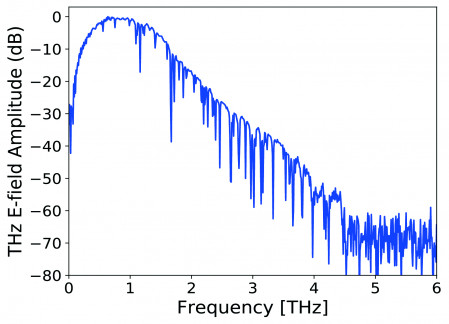 *Settings: Averaging time: 500 s, Scanning rate: 100 Hz