ORC-Cylindric
ORC-Cubic
Optical Reference Cavity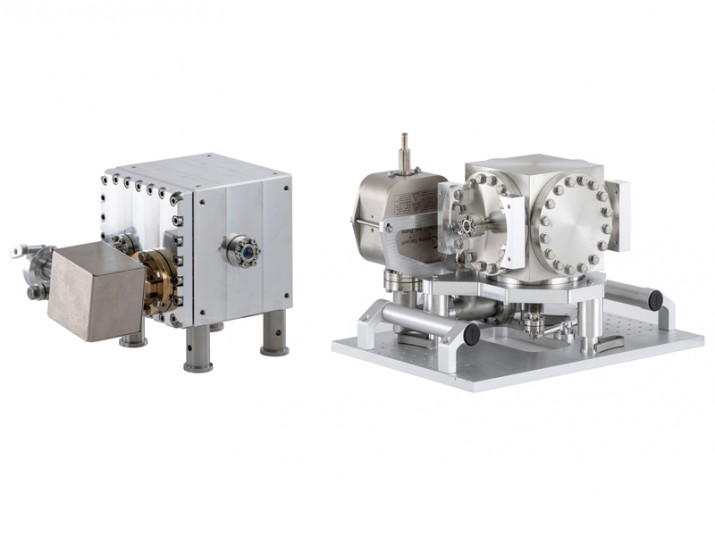 Specifications
Advanced Features and Benefits
Ultrastable optical reference for laser frequency stabilization
Compact footprint
6U rack-mountable option (ORC-Cubic)
Highly customizable – entire portfolio available as building blocks
ORC-Cubic
ORC-Cylindric
Wavelength

500–2000 nm (IBS coatings)

900–5000 nm (XTAL coatings)

500–2000 nm (IBS coatings)

900–5000 nm (XTAL coatings)

Finesse
low / mid / high
low / mid / high
Cavity Length
5 cm
12.1 cm
Free Spectral Range
3 GHz
1.24 GHz
Windows
AR coated, angled and wedged
AR coated, angled and wedged
Thermal Shields
active and passive
active
Linear Drift Rate
~150 mHz/s
~150 mHz/s
Ambient Temperature Sensitivity
~4 mK/°C
~4 mK/°C
Temperature Sensor
10 kΩ NTC
10 kΩ NTC
Peltier Elements
2x 25 W
1x 56 W
Ion Getter Pump
5 l/s
10 l/s
Achievable Pressure
< 10-7 mbar
< 10-7 mbar
Stainless Steel Valve
Cu sealed, KF flange
Cu sealed, CF flange
Dimensions
W 28 cm, L 28 cm, H 18 cm
W 48 cm, L 35 cm, H 35 cm
Vacuum Chamber Material
aluminum
stainless steel
Mass
15 kg
55 kg
Rack Integration
19", 6U enclosure (optional)
n.a.
Description
The Optical Reference Cavity (ORC) series is our solution when customization is pivotal. Choose from the exceptional portfolio of adaptations, auxiliary instruments and services and profit from our experience in designing generations of ultrastable laser systems.
The ORC family are Fabry-Pérot-type cavities with a resonator spacer made out of ultra-low expansion glass (ULE). The cavity is mounted in a sealed vacuum housing, engineered for exceptional temperature stability to enable low frequency drift. The compact design ensures minimal spatial demand. The ORC-Cubic is available as a 6U, 19" rack module. It is based on a rigidly mounted cubic spacer licensed from National Physical Laboratory. The ORC-Cylindric uses a cylindric spacer designed by the Physikalisch Technische Bundesanstalt, that is horizontally mounted on four support points. Here, portability is ensured by a mechanical locking mechanism.
A broad variety of add-ons and options is available for customization: mirror substrates are available as ULE or fused silica (FS), mirror coatings can either be ion-beam sputtered (IBS) or crystalline (XTAL), the latter is needed when ultimately low thermal noise is paramount. The highly reflective coatings are available over a broad wavelength range and also as dual or triple highly reflective mirrors. Modules for input coupling, PDH locking, and output monitoring can be rigidly mounted onto the chamber, rendering tedious realignments after transportation obsolete.
Every system is baked-out during the assembly process. The built-in NTC and Peltier elements are accessible via vacuum feedthroughs, allowing for operation at the zero crossing of the coefficient of thermal expansion (CTE). Characterization of the CTE is available on request. Both cavities are also available without enclosure.
Reference Cavity Spacers:

Calculated thermal noise floor
mirror substrates – mirror coatings
ULE-IBS
FS-IBS
FS-XTAL
Thermal noise ADEV limit
5 cm CUBIC
1.4 x 10-15
9 x 10-16
4 x 10-16
Thermal noise ADEV limit
12 cm CYLINDRIC
5.8 x 10-16
3.8 x 10-16
1.6 x 10-16
Applications