ORS
Ultrastable Laser System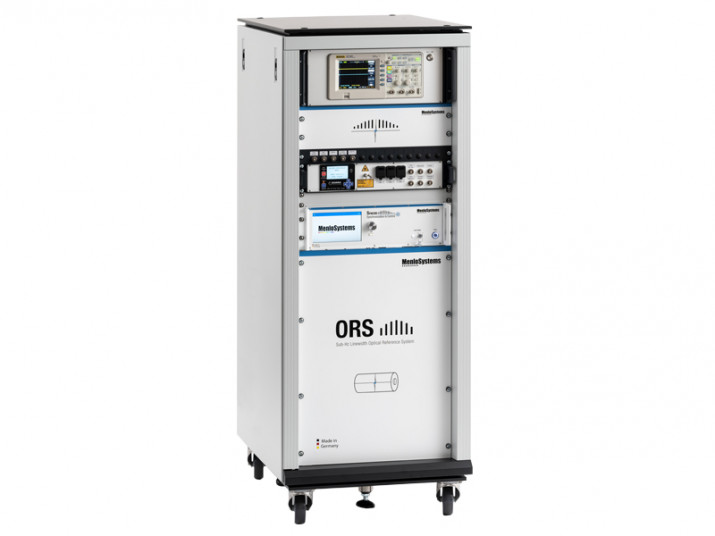 Specifications
Advanced Features and Benefits
Top-of-the-line system designed for ultimate performance
Ultimate phase noise and frequency stability
Easily transportable (mechanical transport lock)
Highly customizable—available over wide range of wavelengths and with many options
Robust and well-engineered single 19" rack system including monitor & control system and vibration isolation platform.
Automated laser locking—24/7 operation
ORS
Wavelength
500–1600 nm (IBS coatings), 900–1600 nm (XTAL coatings)
Stability (MADEV at 1 s, linear drift removed)
<7 x 10-16 (with FS-XTAL option)
<1 x 10-15 (with FS-IBS option)
<2 x 10-15 (with ULE-IBS, standard system)
Linewidth
<1 Hz
Phase Noise (laser source dependent)

ULE-IBS FS-XTAL

at 10 Hz -7 dBc/Hz -13 dBc/Hz
at 100 Hz -47 dBc/Hz -47 dBc/Hz
at 1000 Hz -70 dBc/Hz -70 dBc/Hz

For all Models Spurious Signals <-20 dBc

Output Power
>10 mW (FC/APC connector), high power on request
Cavity Spacer
12.1 cm, ULE, cylindric design
Free Spectral Range
1.24 GHz
Linear Drift Rate
approx. 150 mHz/s
Vibration Isolation Platform
included
Description
The Optical Reference System (ORS) is designed for uncompromised performance. It delivers ultra-narrow linewidth laser light with outstanding frequency stability.
The system's centerpiece is a high-finesse Fabry-Pérot cavity (cylindric spacer with a length of 12.1 cm) serving as a reference for a CW laser. The cavity is made out of ultra-low expansion glass (ULE) and is operated in vacuum at the point of zero thermal expansion. The reference cavity is actively decoupled from vibrations and acoustically isolated allowing for ultimate performance also in rough laboratory environments. An easy-to-use cavity-locking mechanism ensures portability without realignment of the optical paths.
The system is operated by the newest generation of Menlo Systems' proprietary SYNCRO controller—a modular electronics platform designed for versatility and intuitive use. It incorporates all required electronics, e.g., a low-noise laser driver and a very fast (analog) servo loop for laser frequency stabilization. The user controls all parameters using either the 7" front-panel touchscreen or a GUI on a remote PC. The onboard software ensures automatic cavity locking and system monitoring.
Watch a system demonstration of the ORS system here:
STABILITY AND PHASE NOISE