YLMO 520
Femtosecond Fiber Laser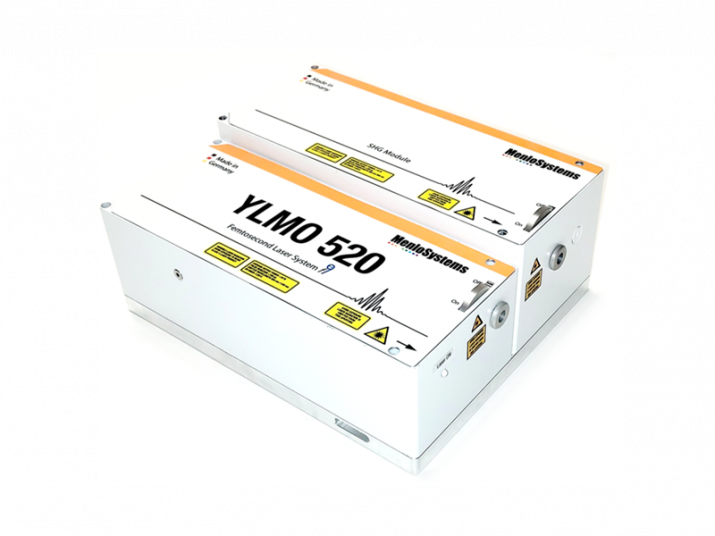 Specifications
Advanced Features and Benefits
Dual color output 520 nm & 1040 nm
Arbitrary splitting ratios possible
Compact Laser Head
Short femtosecond pulses <150 fs
Reliable operation due to figure 9® mode locking and all-PM solution
| | |
| --- | --- |
| | YLMO 520 |
| Central Wavelength | 520 nm ± 5 nm |
| Pulse Width (FWHM) | < 150 fs (Gaussian) |
| Average Power* | > 500 mW (higher output power on request) |
| Pulse Energy | >5 nJ |
| Repetition Rate* | 100 MHz |
| Output Port | freespace |
| Polarization | linear, s-polarized |
| Beam Divergence | < 2 mrad |
| Beam Quality | M² <1.2 (typ. <1.1) |
| Auxilary Output Port** | Free space, > 4 W average power, 1040 nm, <100 fs |
*Please inquire for your specific combinations of average output power, pulse duration, repetition rate
** User can switch between 520 nm and 1040 nm port (arbitrary splitting ratios possible).
Description
The YLMO 520 is based on a frequency-doubled ytterbium doped femtosecond fiber laser (YLMO). The system delivers more than 500 mW of average output power at 520 nm, with pulse durations below 150 fs. A versatile design permits simultaneous access of the 1040 nm fundamental, at an arbitrary power splitting ratio. High peak powers, excellent stability, and consistent long-term performance make the YLMO 520 a perfect fit to applications such as multiphoton excitation, pump-probe spectroscopy, or two-photon polymerization. Menlo Systems' femtosecond fiber laser integrates the latest developments in fiber technology and incorporates these enhancements into an easy-to-use product.
Amplitude noise < 0.5% rms (over 24h)

---
Reproducibility Identical and consistent laser performance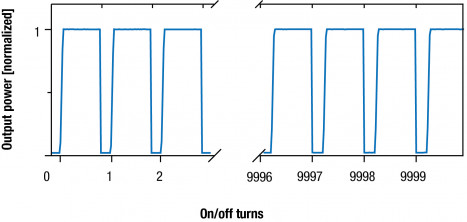 ---
Optical Performance Autocorrelation and optical spectrum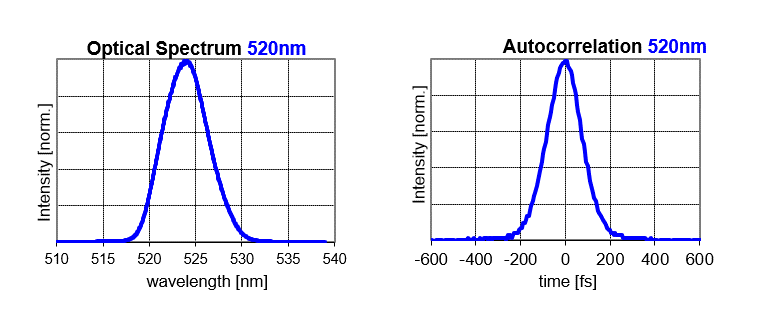 Applications
Ultrafast Spectroscopy

Multi-Photon Exitation
Application Notes