ELMO
Femtosecond Erbium Laser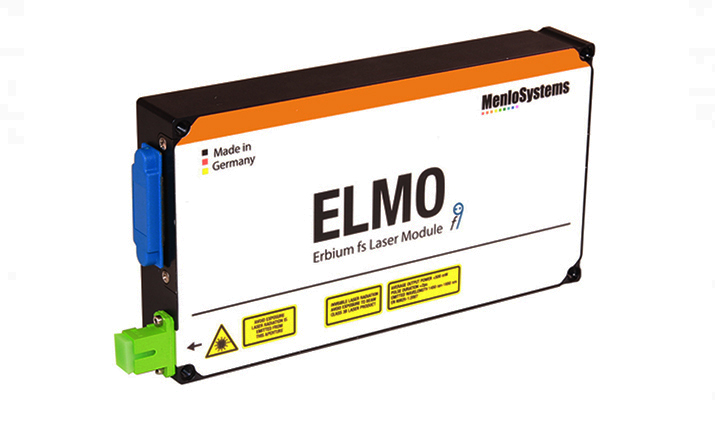 Specifications
Advanced Features and Benefits
High Stability
Low Amplitude and Phase Noise
All-PM Solution
Single Mode-Lock State
Menlo figure 9® Technology, Laser Output in Less than 60 Seconds

Repetition Rate 50-100 MHz

Smallest Footprint,

No additional laser driver required

Pulse Width down to 45 fs
ELMO

ELMO HIGH POWER

ELMO HIGH POWER-FS
Central Wavelength
1560 nm ± 30 nm
1560 nm ± 30 nm
1560 nm ± 30 nm
Average Power
>10 mW
>180 mW
>330 mW
Pulse Width
<150 fs (typ. 100 fs)
<60 fs (typ. 45 fs)
<90 fs (typ. 70 fs)
Output Port
fiber-coupled
fiber-coupled
free space
Polarization
linear, PM fiber
linear, PM fiber
Dispersion Management*
dispersion can be factory set to achieve short pulses after 0.5-30m of external fiber
dispersion can be factory set to achieve short pulses after 0.5-30m of external fiber
external patch cord length of 0.5m to external compressor module**
Repetition Rate*
100 MHz
(50-100 MHz with Vario)*
100 MHz
(50-100 MHz with Vario)*
100 MHz
(50-100 MHz with Vario)*
2nd Fiber-Coupled Seed Port
yes
yes
2nd High Power Output Port
available with MULTIBRANCH
available with MULTIBRANCH
available with MULTIBRANCH
*Please inquire for your specific combinations of average power, pulse duration, repetition rate, and external fiber length.
**Free space version with additional compressor module, versatile handheld compressor : module can also be mounted in s-polarized orientation. Standard external patch cord length 0.5m
Description
Menlo Systems' fiber-based femtosecond laser sources integrate the latest achievements in fiber technology into easy-to-use products. Menlo Systems' unique figure 9® mode locking technology results in reproducible and long-term stable operation. The ELMO with its all-fiber design guarantees excellent stability and low-noise operation. As seed source for fiber amplifiers the oscillator is maintenance free, user installed and ready to use at the press of a single button. In short: An OEM laser engineered for 24/7 operation.
Amplitude noise
< 0.5% rms (over 24h)
---
Reproducibility
Identical and consistent laser performance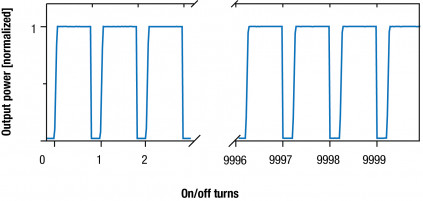 Applications
Application Notes