OIDA Technology Showcase
The OSA Industry Development Associates are hosting the
3rd Virtual OIDA Technology Showcase - a Unique Product Presentation & Networking Event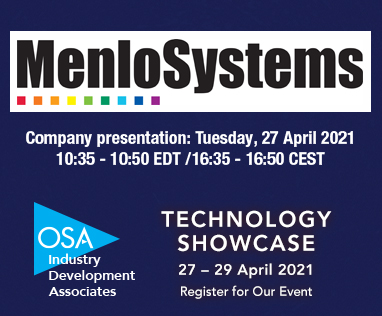 Menlo Systems presents:
Figure 9® Mode-Locking Technology: Ultrafast Fiber Laser Applications in Science and Industry
In this session of the OIDA Technology Showcase, Menlo Systems will discuss the unique properties and benefits of its proprietary figure 9® mode-locking technology. The all-polarization maintaining fiber design allows for compact modules, the performance of which is superior to other existing mode-locking technologies in terms of reliability and lowest phase noise. It guarantees reproducible and long-term stable laser operation, implying reliability and ease-of use for various applications ranging from scientific high-precision measurements to industrial material characterization and processing. We will shed light on the crucial laser parameters in the latest applications such as 3D-microprinting, optical frequency combs, terahertz and mid-IR laser applications. We offer a live demonstration of our latest laser systems during the networking session subsequent to our scheduled presentation.
Speaker:
Simon Kocur, Director of Sales & Service, Menlo Systems Inc.
Networking:
Dr. Christian Mauser, Product Manager Femtosecond Lasers
Dr. Andon Bano, International Sales Engineer Femtosecond Lasers
Click here to view information on Menlo Systems' presentation and speaker.
Register now for the entire event and talk to our experts about suitable solutions for your institution!

Menlo Systems' event schedule:
Showcase Presentation:
Tuesday, 27 April 2021, 10:35-10:50 EDT / 16:35-16:50 CEST
Networking Availability:
Tuesday, 27 April 2021,
10:05-10:50 EDT / 16:05-16:50 CEST: Presentation of company portfolio with networking opportunity
10:50-11:20 EDT / 16:50-17:20 CEST: Live demonstration of latest laser modules with Q&A session
11:20-12:00 EDT / 17:20-18:00 CEST: Networking and Q&A session