New Features 2021

Description
New Product: ORS-Mini—Field deployable, rack-mountable ultrastable laser system
The ORS-Mini is Menlo Systems' answer to demanding, high-end field applications requiring an ultrastable laser system with Hz-level linewidth. This turnkey solution comes as a robust and well-engineered 19" rack module (8U) and delivers best-in-class phase noise and a fractional frequency stability of <5 x 10-15 . A PDH locking bandwidth of around 1.5 MHz ensures excellent phase noise at high Fourier frequencies. The system incorporates the newest generation of Menlo Systems' proprietary SYNCRO controller that ensures fully automated operation including laser locking for 24/7 operation. The ORS-Mini is available with lasers at around 1542 nm or 1064 nm.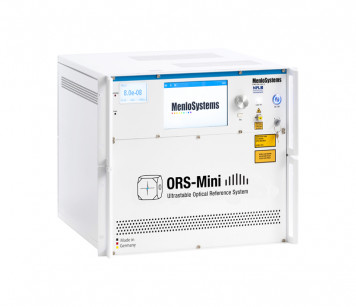 Improved SYNCRO for fully Automated Operation
Menlo Systems released the newest version of its proprietary SYNCRO controller—a modular electronics platform designed for versatility and intuitive use. The new software enables fully automated operation and monitoring of the ORS product family including locking of the laser to the reference cavity for 24/7 operation. The software can be accessed directly on the enlarged touchscreen, or via control software on a remote computer.
Optical Reference Cavities for the Quantum Computing Community
Inspired by customer feedback, Menlo System now also offers its ORC-Cubic in a 19" rack-mountable enclosure (6U). This makes the ORC-Cubic the ideal choice for OEM integration. We would like to encourage enterprises developing the next generation of quantum computers to exploit this well-engineered and robust optical reference cavity.
Menlo Systems' ORC-Cubic is highly customizable. The highly reflective coatings are available over a broad wavelength range and also as dual or triple highly reflective mirrors. Auxiliary modules for input coupling, PDH locking, and output monitoring can be rigidly mounted onto the housing, rendering tedious realignments after transportation obsolete. Chose the key building blocks that match your needs.
Let's reach the quantum supremacy together!