New Features 2022

Description
THz Path Length Adaptation Option
Adjust the THz path length in a flexible fashion with Menlo Systems' TERA K15 and TeraSmart. The long range delay line of our systems and the full control on the laser design allow the adaptation of the THz path length to custom optical setups. Integrate your cryostat, your sample chamber or your gas cell with our systems in a simple and cost effective way! The stability and low jitter of our patented figure9 laser allow THz path lengths to above 3 meters!
Terahertz Mirror Optics for flexible reflection and transmission measurements
Menlo Systems introduces a new, flexible parabolic mirrors terahertz optics for easy interchange between measurements in reflection and transmission. Sweep continuously the reflection angle in a controlled fashion while teasing out the highest bandwidth of the THz-TDS system: 6 THz, available with TERA K15 and TeraSmart! This unit is available as an option to all Menlo THz-TDS models and is compatible to most existing Menlo Systems terahertz systems. Request your retrofit!
Performance Boost
ScanControl now yields a factor 2 boost in scan speed! Available to most Menlo Systems terahertz systems in the field. Request your retrofit!
Purge box option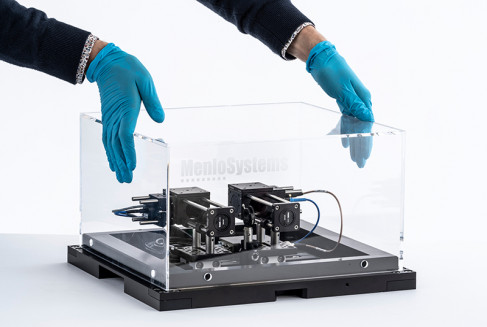 Menlo Systems offers a compact purge box for our THz mirror systems for improved, water line free Terahertz spectroscopy. Purge your spectrometer with Nitrogen or dry air and get smooth measurements. Together with the Mirror Option, the unit can be retrofittet to most existing Menlo Sytems terahertz systems.
Reflection Head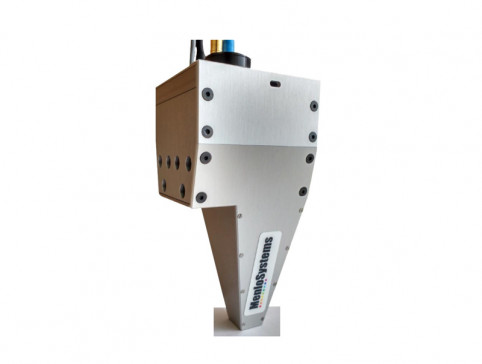 With our new Reflection Head, you can mount your fiber-coupled THz antenna modules in a compact, alignment-free device to concentrate on your reflection measurements without compromise in the performance (>95 dB, > 6THz). This unit is compatible with Menlo Systems' TERA15-FC antenna modules. With the fiber coupled design, it gives you the easiest and most flexible reflection device.
Acquire water absorption free THz spectra, without enclosing you sample! The integrated purging inlet enables a fast purging of the compact volume of the reflection head at the time of scanning.