New Features 2023

Description
Product release: TeraLyzer pro

TeraLyzer pro is Menlo Systems's software solution for thickness and material parameter extraction from terahertz time domain spectroscopy data in reflection geometry.
Based on the algorithm developed by our INSPECT project partner at Fraunhofer ITWM and funded through the Eurostars program, TeraLyzer Pro enables highly accurate thickness and complex dielectric parameters extraction of multilayer samples (d,n,κ) for multilayer systems in real time. One of the strong features of the TeraLyzer pro software is that thin samples in the sub-wavelength 10 μm regime become accessible to your research thanks to the simulation algorithm. Moreover, real time analysis of THz time domain reflection data enables a whole new range of applications such as paint thickness monitoring, non-destructive testing of coatings and layers on polymers and metals, semiconductor testing, and testing of thin films.
Reflection Head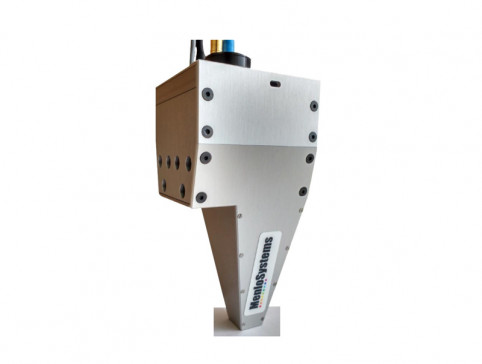 The perfect hardware fit to our new software TeraLyzer pro!
With our new Reflection Head, you can mount your fiber-coupled THz antenna modules in a compact, alignment-free device to focus on your reflection measurements with no compromise in performance (> 6THz).
The lightweight measurement head is a perfect fit to robotic arms and other actuators for in-line reflection measurements and THz thickness measurements: the compatibility with Menlo Systems' TERA15-FC fiber coupled antenna modules ensures the highest flexibility.
Bonus feature: acquire water-absorption-free THz spectra, without enclosing your sample! The integrated purging inlet enables a fast purging of the compact volume of the reflection head while scanning.
THz performance conform to a recognized standard: VDI/VDE 5590 guideline
A few years ago, members of the terahertz community in Germany, including Menlo Systems, initiated the formation of VDI standards for terahertz systems. Since terahertz systems are employed in various fields and throughout diversified communities, the initiative serves, among other aspects, to develop a consistent language and to map quality characteristics for THz technology. Namely, these norms ensure that system performance is tested in a consistent and transparent fashion across the industry.
We are now proud to announce the availability of a VDI/VDE 5590 guideline for the evaluation of the performance of THz systems, which we employ in our standard testing and specification procedure.
Learn more here about the committed and the VDI/VDE 5590 standard:
https://www.linkedin.com/posts/menlo-systems_terahertz-thz-teratec2022-activity-6937737139577094144-wlDd?utm_source=share&utm_medium=member_desktop
Terahertz Mirror Optics for flexible reflection and transmission measurements
Menlo Systems introduces new, flexible parabolic mirrors terahertz optics for easy transition between reflection and transmission measurements. Sweep the reflection angle continuously and in a controlled fashion while measuring with the highest bandwidth of the THz-TDS system: 6 THz. Available with our TERA K15 and TeraSmart! This unit is available as an option for all Menlo THz-TDS models and is compatible to most existing Menlo Systems terahertz systems. Request your retrofit!