FPD610-FC-VIS
FPD610-FS-VIS
High Sensitivity Fast Photodetector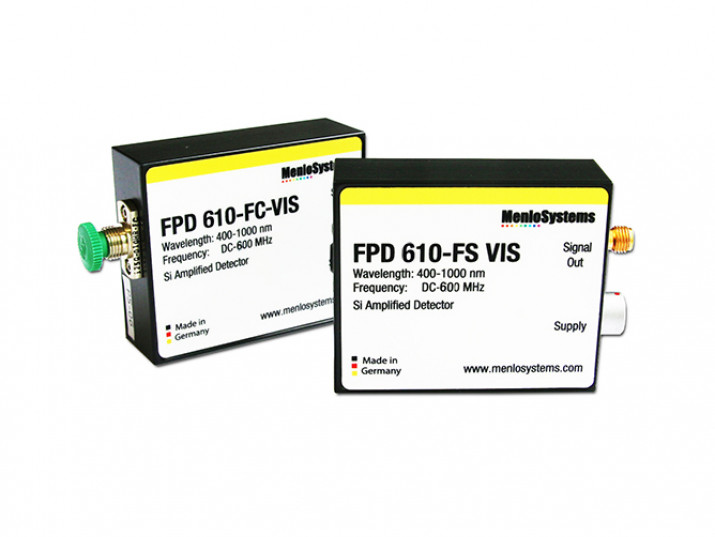 Specifications
Key Specifications
Frequency range DC - 600 MHz
Spectral sensitivity from 400 - 1000 nm
3 dB bandwidth from DC - 500 MHz
Short rise times below 1 ns
See FPD610 data sheet for detailed specifications.
Features
Highest signal-to-noise ratio with true DC
Flat spectral response (less than 3 dB up to 500 MHz)
OEM integration
Fiber coupled or free space optical input
Integrated low noise transimpedance amplifier
Easy-to-use package
Low noise power supply included
Description
The high sensitivity ultrafast PIN photodetector FPD610 product family is optimized for highest signal-to-noise-ratio for detection of low level optical beat signals and pulse shape at frequencies up to 600 MHz. These photodetectors are easy-to-use Si-PIN photodiode packages with an integrated high-gain, low-noise transimpedance amplifier.
The 3 dB bandwidth of the DC-coupled device is 500 MHz.
Models for both visible and near infrared range are available, both with either free space or fiber coupled optical input. The compact design of these detectors allows for easy OEM integration. Included with each amplified photodetector is a low noise power supply, which features a universal AC input.
The units are especially recommended for applications e.g. in metrology and optical lock techniques when homodyne or heterodyne optical beat signals of weak power have to be detected and amplified in a highly efficient way.
Applications
Efficient homodyne and heterodyne extraction of optical beat signals at frequencies up to 600 MHz

Characterizatiuon of pulsed or modulated light sources

Detection of chopped light sources