New Features 2023

Description
Menlo FPD ultrafast photodetectors with improved specifications
The FPD ultrafast photodetectors have reached a new level. All models have improved dark state noise levels down to -135 dBm (see individual spec sheets). The FPD610, the latest addition to the FPD family, has a DC-600 MHz bandwith and an exceptional high gain. With each detector a low noise power supply is included, making it ready for operation. All FPD models share the same small housing - a plus for integration and OEM purposes.
Menlo APD ultrafast Avalanche photodetectors
NEW PRODUCT: APD410
High Sensitivity Avalanche Photodetector Spectral range extended to the UV 200 nm - 1000 nm.
Please contact us if you want to learn more about the new models.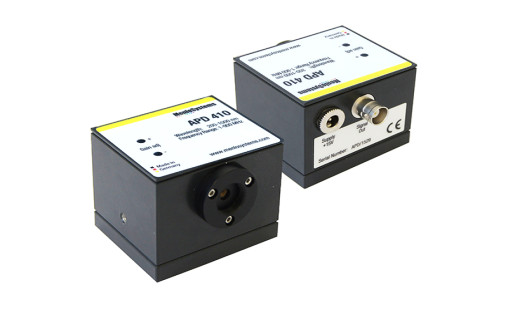 COMING SOON: OPD Series
AC-coupled switchable gain, max. overall gain of 100.000
Optimized for pulsed beat signals
Max. NEP < 3pW/√Hz
High saturation limit of 2mW
OEM customers
We welcome OEM customers and are ready to adapt the detectors to your specific application. Our in-house expertise combines excellent knowledge in optics and RF electronics resulting in state-of-the art solutions for our customers.
Please download our latest Detector Selection Guide for a detailed overview over all specifications.