New Features 2023

Description
Tracing its origin to worlds first commercial supplier of optical frequency-combs, Menlo Systems has been leveraging innovation in ultra-stable laser technology for over 20 years. Today, we continuously strive to extend a portfolio of femtosecond fiber lasers based on our proprietary figure 9® mode locking technology – meeting scientific precision with industrial robustness.
YLMO Mid-IR Series: Powerful. Tunable. Compact.
The new YLMO mid-IR delivers femtosecond pulses in the mid-IR with output power levels of more than 100 mW in a wavelength range between 3-5 µm. Pulse durations well below 400 fs align to applications in frequency as well as in time domain, while a compact design ensures rock solid stability without any realignments. No matter what type of mid-IR spectroscopy to be carried out: Here comes a worry-free, cost-effective, high brilliance mid-IR source – that can be installed within a few minutes.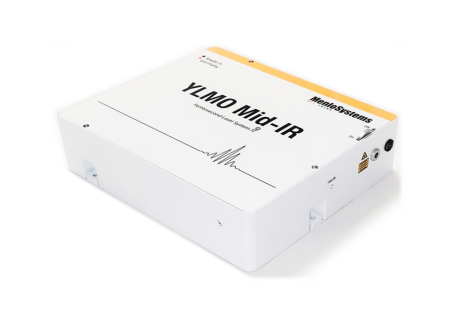 YLMO-520: Frequency doubling meets versatility.
The new YLMO-520, based on frequency doubling of our YLMO 1040 nm ytterbium laser, delivers >500 mW average output power at 520 nm, with pulse durations below 150 fs. A versatile design permits simultaneous access of the 1040 nm fundamental, at an arbitrary power splitting ratio. High peak powers, excellent stability, and consistent long-term performance make the YLMO-520 a perfect fit to applications such as multiphoton excitation, pump-probe spectroscopy, or two-photon polymerization.
ELMO High Power: Now even better aligned to THz generation.
The ELMO series of 1560 nm erbium lasers delivers up to 380 mW average output power with pulse durations down to 45 fs – industry proven by 24/7 operation in harsh environments. For 2023 improvements, we have particularly kept an eye to align the ELMO High Power model to our new fiber-coupled photoconductive antennas for even optimized broadband THz emission. In conjunction with customizable options – like fiber lengths up to 30 m or multibranch outputs – the ELMO series remains unbeaten in providing utmost versatility for THz time domain applications and beyond.
ELMO 780 High Power: Delivering ultrashort - to your sample.
The ELMO 780 High Power model, a modular frequency doubling extension of our ELMO line of 1560 nm lasers, delivers typically up to 200 mW of average output power at 780 nm, with pulse durations down to 60 fs. Owing to a refined dispersion compensation, these pulse durations can be delivered right to your sample - no matter if you use an AOM, a microscope objective, or any further optics. Offering all the versatility of our modular concept, the ELMO 780 High Power fits in seamlessly to our product line of industrial femtosecond fiber lasers – ready for OEM integration.
Stabilization and Synchronization: Complete solutions from under one roof.
Our proprietary figure 9® fiber laser design is poised to adapt to customized repetition rates, repetition rate tuning, synchronization, asynchronous optical sampling (ASOPS), or carrier envelope phase (CEP) stabilization at exceptionally low noise levels. In 2023, we not only continue to serve these requirements with complete solutions from under one roof – but strive to advance the compactness, cost-effectiveness, and user-friendliness of control electronics to a new level.