FC1500-ULNplus
Optical Frequency Comb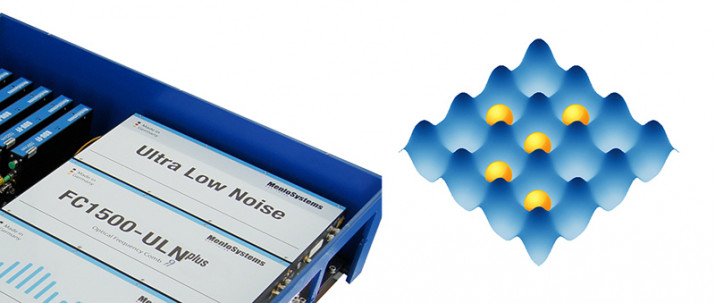 Spezifikationen
Advanced Features and Benefits
Comb Spacing 250 MHz
Accuracy 1 x 10-18 (τ >100 s)
Stability: 5 x 10-18 in 1 s, 5 x 10-19 in 1000 s
Operational Range from 500 nm to 2 μm
Integrated Phase Noise <80 mrad [1Hz - 2 MHz]
High Repetition Rate
High Bandwidth >1 MHz Actuators for CEO and Repetition Rate
Fully Fiber-coupled CEO Frequency Generation
Turnkey Metrology System. Fully automated, including data evaluation software, designed for continuous operation
FC1500-ULNplus
Comb Spacing
250 MHz
Accuracy
1 x 10-18 for τ > 100s*

Stability
5 x 10-18 in 1s*▴, 5 x 10-19 in 1000 s*▴
Integrated Phase Noise
<80 mrad [1Hz - 2 MHz]
Line Width
<1Hz*
Tuning Range of Comb Spacing
>2 MHz
Tuning Range of CEO Frequency
>250 MHz
Laser Outputs
five fiber-coupled, linearly polarized, PM output ports
Center Wavelength
1560 nm
Spectral Range
>25 nm (500-1050 nm with M-VIS,1050-2100 nm with M-NIR)
Average Output Power
>13 mW from each laser port (>60 mW with M-VIS, >200 mW with M-NIR)
*phase lock to optical reference, ▴modified Allan deviation ( λ -type counter, timebase 1ms), **limited by resolution bandwidth of analyzer
Beschreibung
The Menlo Systems FC1500-ULNplus Ultra Low Noise Optical Frequency Comb is the ideal clockwork for optical lattice clocks. Our all polarization maintaining figure 9® mode locking technology together with high bandwidth actuators (>1 MHz) for both the carrier-envelope offset frequency and the repetition rate guarantees ultimate performance.
Ever increasing demands for stability and accuracy of time and frequency signals require improved oscillators and frequency references. Today's best optical clocks rely on narrowband optical transitions and use a frequency comb as a clockwork. The FC1500-ULNplus clearly keeps pace with the best optical lattice clocks, which is proven in an out of loop comparison between two independent ULNplus Combs. This comparison is an elementary part of every systems' quality check at the Menlo factory. Such Menlo guarantees and proves by measurement that the outstanding spectral purity of the oscillator is transferred perfectly to the desired wavelength for every system delivered to the customer.
Analysis of the out of loop beat signal between two ULNplus combs at the Strontium clock transition frequency: The extremely low phase noise proves that the spectral purity is transfered to the target wavelength, which makes the ULNplus a unique clockwork for Strontium and other optical lattice clocks.