SmartComb
Compact Optical Frequency Comb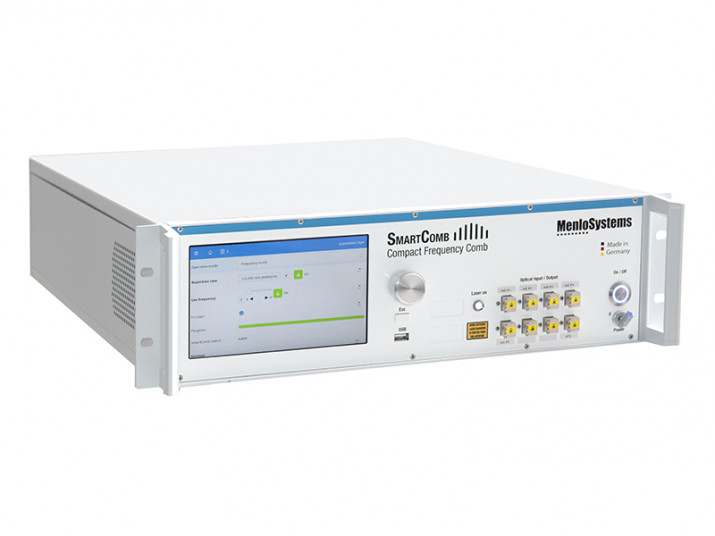 Spezifikationen
Advanced Features and Benefits
touch panel control
beat detection unit included
class 1 laser
full automation
internal atomic RF clock
SmartComb
Comb Spacing
100 MHz
Accuracy
10-14 (>100 s1))
Stability
2 x 10-13 in 1 s1)
Laser Input
up to two fiber-coupled, lineary polarized SC/APC PM input ports
Center Wavelength
1.5 µm
Spectral Range @ 1550 nm
>25 nm
Measurement Wavelength
choose one in the 530 - 2000 nm range
1)Or same as reference, whichever applies first. Internal atomic clock supports 3 x 10-10 stability in 1 s and accuracy 10-9, which is subject to aging. Recalibration is available.

Beschreibung
The SmartComb - a new era in Optical Frequency Combs
SmartComb is a 19'', 3U, all fiber based compact Optical Frequency Comb. SmartComb is the first model of new era in Optical Frequency Combs. A unique system where the user plugs in the optical fiber of the laser being measured or stabilized - SmartComb does the rest. Fully automated locking electronics, fully automated beat detection, and fully automated measurement and stabilization. Made for use in- and outside of optics labs. That is why we call it a new era in Optical Frequency Combs. Naturally, SmartComb can also come with various output ports at different colors for applications where frequency comb light is used as seed light or for spectroscopy. We are happy to learn about your requirements.