Our founders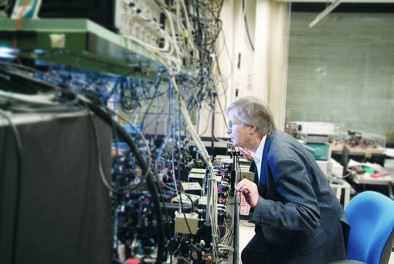 "Optical frequency combs from mode-locked femtosecond lasers have revolutionized the art of counting the frequency of light. They can link optical and microwave frequencies in a single step, and they provide the long missing clockwork for optical atomic clocks (..) In our laboratories at Stanford and Garching, the development of new instruments and techniques for precision laser spectroscopy has long been motivated by the goal of ever higher resolution and measurement accuracy in optical spectroscopy of the simple hydrogen atom which permits unique confrontations between experiment and fundamental theory (..) In our highly complex and ever changing world it is reassuring to know that certain physical quantities can be measured and predicted with very high precision. Precision measurements have always appealed to me as one of the most beautiful aspects of physics. With better measuring tools, one can look where no one has looked before. More than once, seemingly minute differences between measurement and theory have led to major advances in fundamental knowledge. The birth of modern science itself is intimately linked to the art of accurate measurements (..)"
PASSION FOR PRECISION
Nobel Lecture 2005 by Theodor W. Hänsch
The company was founded in 2001 as a spin-off from the Max-Planck-Institute of Quantum Optics in Garching by Prof. Dr. Theodor Hänsch and his two PhDs Dr. Ronald Holzwarth and Dr. Michael Mei. In his Nobel lecture in 2005, Ted Hänsch gave insight into his own motivation for ever higher resolution and measurement accuracy and at the same time described what has been the essential motivation for the foundation of Menlo Systems: The development of new instruments and techniques for precision laser spectroscopy has long been motivated by the goal of ever higher resolution and measurement accuracy in optical spectroscopy. With better measuring tools, one can look where no one has looked before. More than once, seemingly minute differences between measurement and theory have led to major advances in fundamental knowledge. The birth of modern science itself is intimately linked to the art of accurate measurements.
It started with a vision...
What started with the dream of making the groundbreaking but complex technology of the optical frequency comb available to science and industry in a one-box turnkey instrument, is now known as Menlo Systems: A leading pioneer for optical frequency comb solutions in industry and research. Our company develops, manufactures and distributes laser solutions for precision applications such as spectroscopy, metrology, quantum technology, and Terahertz physics. We manufacture all our products in the company's headquarters in Martinsried, close to Munich. Counting 150 physicists, engineers, software developers, and technicians, our international team is dedicated to materialize individual conceptual requirements in close collaboration with our customers. Menlo Systems' sales offices in the US, in China, and in Japan, and a global distributor network guarantee close relations to customers during and after the sales process at any time and place. Menlo products have been successfully installed in more than 50 countries and have enabled numerous new applications in high precision measurements. The Menlo Systems' optical frequency comb solution is the gold standard in metrology institutes around the world.
And the one-box turnkey instrument has become reality in the product line SmartComb.
| | |
| --- | --- |
| Visionary Picture taken 2001 by Ted Hänsch | Menlo SmartComb in 2021 |
Mentors and business angels
In 2001, the three visionaries Ted, Ronald, and Michael convinced the Max-Planck Innovation, the technology transfer organization of the Max-Planck Society, to support the foundation of Menlo Systems, the first spin-off out of the Max-Planck-Institute of Quantum Optics. Soon, the initial "two-man show" with one of the world's leading scientist as advisor and mentor, has been complemented by Alex Cable, Thorlabs Inc. founder and CEO. "I remember meeting Alex first at the 27th ECOC conference 2001 in Amsterdam in the Thorlabs booth. Not sure if Alex was trying to sell products to the newly founded Menlo Systems or if it was the other way round. Not really relevant – what is relevant however is that Alex has become the business angel and mentor for Menlo Systems since ever then", says Michael Mei, CEO of Menlo Systems. The company has since continuously enabled numerous scientific breakthroughs with its products, sustainably broadened its portfolio, and step-by-step built a world-class team.
Continuity
Today, Menlo Systems has a firm place in the field of metrology and precision measurements. We deliver solutions to world-renowned research institutes, and bring advancement to future applications and industries such as optical clocks and quantum technologies. Despite our success, however, our team continues to live the original Menlo Systems DNA: One misson, one team. Precision and products "Made in Germany".