ORS-Cubic
Ultrastable Laser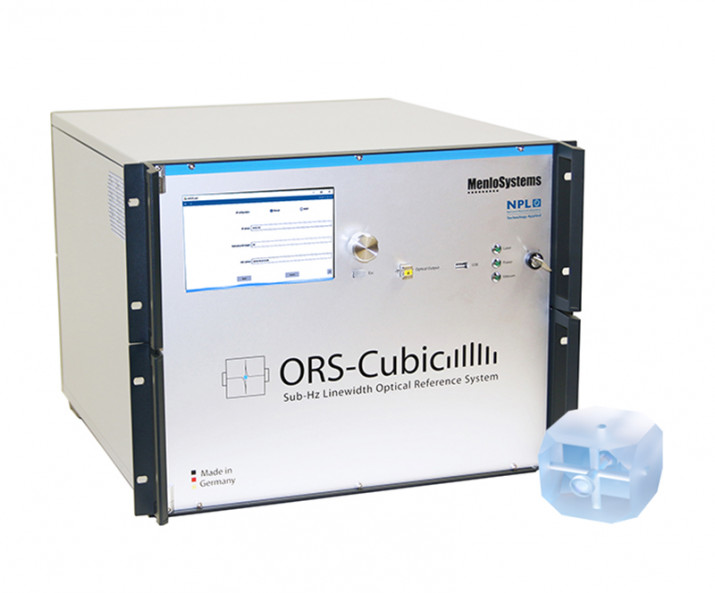 Specifications
Advanced Features and Benefits
State-of-the-art linewidth (<1Hz) and stability (<0.8-5 x 10-15 )
Compact footprint (19" rack mountable)
Fully characterized at Menlo Systems against another Optical Reference System
5 cm long cubic ULE spacer
Custom systems tailored to customers' needs
The ORS can save you valuable R&D time, enabling you to focus on your experiments.
ORS-Cubic
ORS-Cubic High Performance
Wavelength
1542 and 1064 nm
1542, 1064, 657, 698, 729, 1156 nm

and many others between 500 - 1600 nm

Temperature of minimal

thermal expansion

between 20-30 °C
between 20-30 °C
Output power
>10 mW
>10 mW
Finesse
≈250 000
≈250 000
Linewidth
<1 Hz
<1 Hz

Stability:

(MADEV at 1s, linear drift removed)

<5 x 10-15
<3 x 10-15
<8 x 10-16 (with crystalline coatings)
Linear drift rate
approx. 150 mHz/s
approx. 150 mHz/s
Description
The Optical Reference System (ORS) delivers an optical output with ultra narrow linewidth and outstanding short term stability. It consists of a CW laser locked to a stable high-finesse cavity made of ultra low expansion (ULE) glass. The compact design allows for integration of the vacuum chamber, control electronics, vibration isolation platform and acoustic isolation into a 19" rack system and delivers state-of-the-art laser linewidth and stability. The ORS-Cubic is based on the rigidly mounted 5 cm cubic cavity developed in cooperation with the National Physical Laboratory. The rigid mounting of the cubic cavity allows for transportation of the system without the need to readjust the beam coupling into the cavity. Every system is fully characterized at Menlo Systems before shipment. The characterization is carried out either against a reference system with equal or better performance, or in a three cornered hat comparison.
Stability and Phase Noise