YLMO
Femtosecond Ytterbium Laser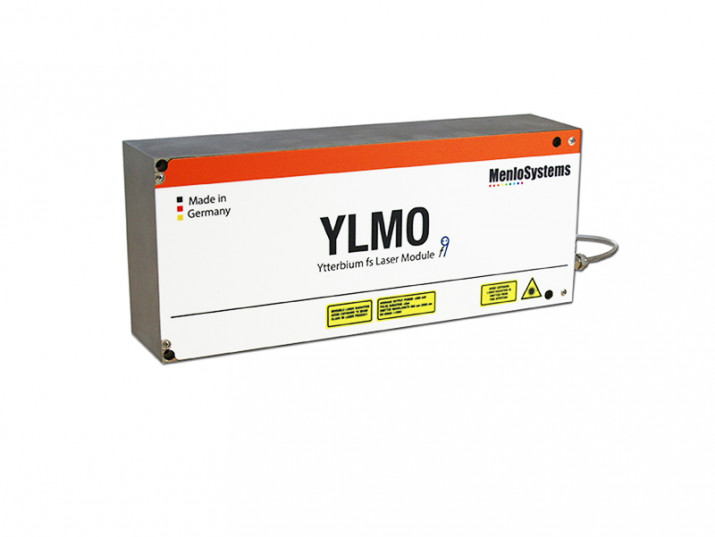 Specifications
Advanced Features and Benefits
High Stability
Low Amplitude and Phase Noise
All-PM Solution
Single Mode-Lock State
figure 9® Technology, Laser Output in Less than 60 Seconds

Repetition Rate 50-100 MHz

Smallest Footprint,

One-box laser (no external control unit)
| | | | |
| --- | --- | --- | --- |
| | YLMO | YLMO HIGH POWER | YLMO-2W* |
| Central Wavelength | 1030 nm ± 10 nm | 1030 nm ± 10 nm | 1030 nm ± 10 nm |
| Average Power | >5 mW | >200 mW | >2 W |
| Pulse Energy | >100 pJ | >4 nJ | >20 nJ |
| Bandwidth** | >10 nm | >10 nm | >10 nm |
| Pulse Width | chirped (bandwidth limited pulses with <150 fs on request) | chirped (bandwidth limited pulses with <150 fs on request) | <150 fs |
| Repetition Rate*** | 50 MHz (50-100 MHz with VARIO) | 50 MHz (50-100 MHz with VARIO) | 100 MHz |
| Output Port | fiber-coupled, SC/APC | fiber-coupled, SC/APC | free space |
| 2nd Fiber-Coupled Seed Port | optional | optional | available with MULTIBRANCH |
| Polarization | linear, PM fiber | linear, PM fiber | linear |
*Delivered with additional electronic unit 19", 2HE.
**Other bandwidths on request.
***Please inquire for your specific combinations of average power, pulse duration, repetition rate, and external fiber length.


Description
Menlo Systems' fiber-based femtosecond laser sources integrate the latest achievements in fiber technology into easy-to-use products. Menlo Systems' unique figure 9® mode locking technology results in reproducible and long-term stable operation. The YLMO series with its all-PM design guarantees excellent stability and low-noise operation. As seed source for fiber amplifiers the oscillator is maintenance free, user installed and ready to use at the press of a single button. In the version with >2 W output power the laser is ideal for application in life sciences. In short: An OEM laser engineered for 24/7 operation.
Amplitude noise
YLMO Seed Laser: < 0.5% rms (over 15h in ambient temperature)
YLMO with Amplifier: < 1% rms (over 12h in ambient temperature, YLMO seeding Menlo BlueCut)
---
Reproducibility
Identical and consistent laser performance
Applications
Application Notes