GPS
Frequency Reference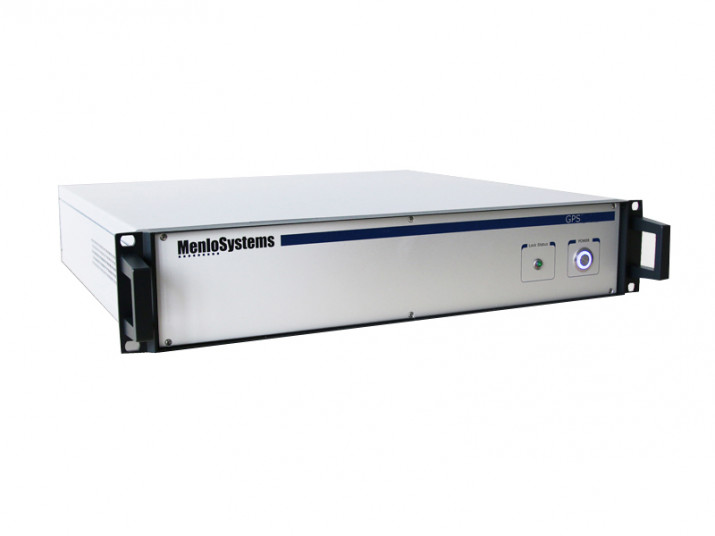 Spezifikationen
Advanced Features and Benefits
Optimized for frequency comb applications
Highly stable 10 MHz reference frequency derived from GPS
An internal ultra stable quartz allows for very high short term stability
| | |
| --- | --- |
|   | Receiver Data |
| 10 MHz output | SMA connector, level +13 ± 1 dBm, 50 Ω |
| NMEA output | D-SUB 9 pin |
| Antenna input | N-Type, female |
| Relative Accuracy | 8 x 10-12 in 1 s |
| Relative Stability | 4 x 10-12 in 1 s |
| Dimensions | 19" compatible, 2 height units |
|   | 315/350 mm depth (with/without rack handles) |
| Line voltage | 110 or 230 V AC ± 10 % (automatic line voltage detection) |
| Power consumption | < 35 Watts |
|   | GPS antenna |
| Dimensions | diameter 90 mm, height 163 mm |
| Cable length | up to 40 m |
|   |   |
Beschreibung
The choice of the frequency reference is critical, since the accuracy and stability that can be achieved by an Optical Frequency Comb is currently only limited by the quality of the frequency reference used as the input.
The GPS reference frequency generator is customized for frequency comb applications to deliver a stable 10 MHz reference frequency derived from GPS. An internal ultra stable quartz allows for very high short term stability, while the receiver uses the averaged GPS signal to slowly correct for long term drifts of the quartz.
The GPS comes with the GPS antenna and the cabling up to 40 m in length.
Aside from this GPS package we offer a 10 MHz Rubidium Reference and an Optical Reference System (ORS).